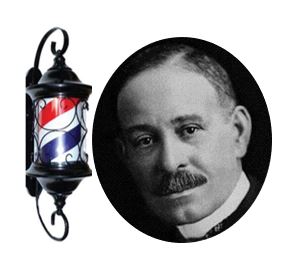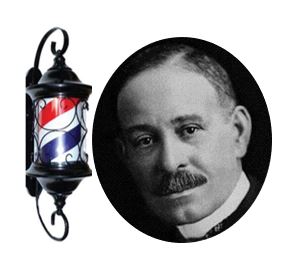 Dr.  Daniel Hale Williams, III
Surgeon
February is both Black History Month and Heart Month.  It also marks eight years for the Colorado Black Health Collaborative's Barbershop/Salon Health Outreach Program (BBSHOP).  This Program was started in February 2012 and is a collaborative effort with organizations like the American Heart Association and others.  Just about every Saturday our volunteers are at one of our 14 shops located across
Denver and Aurora.  We focus on blood pressure screening and health education.  Since inception, the BBSHOP has served over 8600 clients.  We have been told multiple times that our Program, "saved my life".
Given these intersections, we love to share with you the life and contributions of Dr. Daniel Hale Williams, III.  Dr. Hale was born January 18, 1856 in Hollidaysburg, Pennsylvania, five years before the outbreak of the Civil War.  His dad was a freedman barber, inheriting a barber business from his dad, Daniel, Sr., a barbershop owner/preacher.  His mom was a homemaker.  Her mother was a slave that lived on the same plantation as Frederick Douglass.  He was the fifth of seven children.  After his father died from tuberculosis in 1867, 11-year old Daniel, III was shipped off to Baltimore, Maryland, where he started as a shoemaker apprentice.  He did not like the work.
He reconnected with his mother in Rockford, Illinois where he did odd jobs on lake boats and learned to cut hair.  At age 17 he opened his own barbershop.  However, this business failed, and he joined an established barbershop in Janesville, Wisconsin.  He decided to complete his secondary education, cutting hair part-time, while attending school.  He became interested in medicine when he started an apprentice with Dr. Henry Palmer, a Wisconsin surgeon, in 1878.  After 2 years with Dr. Palmer he entered medical school at Chicago Medical College where he graduated in 1883.
He immediately set up practice in Chicago after graduating and taught anatomy at the Chicago Medical College.  There were only 3 Black doctors in practice at the time.  He was called Dr. Dan by his patients. He took care of Black as well as White patients.  He was a trailblazer and set high standards in medical procedures and sanitary conditions.  Though slavery had long ended there were still obstacles related to discrimination that limited medical practice potential and patient care.  Black patients were still barred from admittance to hospitals.  Black doctors were refused staff positions at hospitals.  Dr. Hale took action to resolve the issue.  Interestingly a champion for the cause was Fredrick Douglass.
Dr. Hale co-founded the Provident Hospital and Nurses Training School in 1891.  Provident was the first Black controlled hospital in the nation.  It had interracial staff.  Dr. Williams was a surgeon there 1892-1893 and 1898 – 1912.  While working at Provident he performed the now famous open-heart surgery on July 10, 1893.  While he wasn't the first, as has been reported, to perform open heart surgery in the United States, he was the second surgeon to perform this feat.  He was the first African American to perform the procedure.  The story was that a young Black man had been stabbed during a fight.  When he began decompensating and death impending, Dr. Hale performed the open-heart surgery.  He repaired a tear in the lining around the heart, but not the heart itself.  The patient lived for more than 2 decades after the surgery.
In 1894 Dr. Williams moved to Washington, DC where he served at the Chief Surgeon at the Freedman's Hospital.  In 1895 he co-founded the National Medical Association since Black doctors were not allowed to participate in the American Medical Society, just because they were Black.  He married Alice Johnson in 1898 and returned to Chicago.  By 1899 he also served as a visiting Professor at Meharry Medical College.  He became the first African American charter member of the American College of Surgeons in 1913.  Until his retirement in 1926, he served as a visiting clinical professor.  He was also a member of the first Black Fraternity, Sigma Pi Phi.
Dr. Daniel Hale Williams, III retired after a debilitating stroke in 1926.  He spent his retirement years in Idlewild Michigan, an all-Black resort community.  He died August 4, 1931 at the age of 75.
We honor Dr. Daniel Hale Williams, III for his tenacity, resilience, and for taking action to improve the health and wellness of our community.