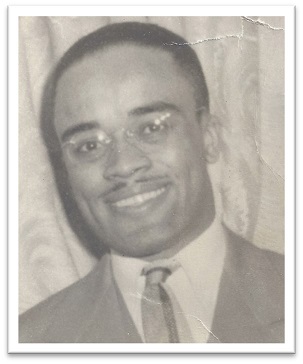 "A people without the knowledge of their past history is like a tree without roots."
Marcus Garvey- political activist, early 20th century
We celebrate Black History every day.  However, Black History Month continues to provide a great opportunity to highlight the people that paved the way for our current generation.  Prior to the article published on the CBHC website two years ago, Dr. Charles Blackwood, a true pioneer, was under the radar of historical consciousness.  That article continues to be a central source of information about the man that was born and raised in Trinidad, Colorado and became a prominent doctor.  There are so many stories within his story. This piece is courtesy of an article, Prominent Physician to Report to U.S. Air Force, in The Denver Inquirer's March 20, 1953, edition.
There are true nuggets of history in the brief article. "A prominent Denver physician will leave Denver, next week to don the uniform of the U.S. Air Force, it was disclosed earlier this week."  Dr. Blackwood was slated to report to Gunter Air Force Base in Montgomery, Alabama around April 1 for training and then on to Portland, Oregon where he would be stationed.
Dr. Blackwood, a native of Trinidad, Colorado, a story for another time, had been in private practice in Denver for the three years prior to his departure.  He had graduated from University of Colorado Medical School in 1947 and completed his internship at Harlem Hospital in New York City.  After the internship he returned to the University of Colorado for post graduate work.
The article noted that he was the Medical Director for the American Woodmen and "well known in medical circles throughout the state." He was on the faculty of the University of Colorado, a specialist in internal medicine and was on the staff of General Rose and St. Luke's Hospital.
But……., the true story within the story was revealed in the last paragraph of the article.  It mentions that during Dr. Blackwood's absence, Dr. Harry Rahming would replace him as American Woodmen's Medical Director, "a recent graduate of the University of Colorado."  Who is Dr. Rahming?  The article mentions that Dr. Rahming was the son of Father H.E. Rahming, Rector of Holy Redeemer Church.
Dr. Harry Ellsworth Rahming, was born in Denver, Colorado on October 17, 1927.  He received his undergraduate degree from University of Denver.  According to his 1945 military draft registration he also worked as a musician on the side while in college.  He played the saxophone.  In 1953, he was only the second African American to graduate from University of Colorado Medical School since the school's inception in 1883.  Dr. Blackwood was the first African American graduate of CU Medical School.  Dr. Rahming had three children.  His medical career was truncated with his untimely death in 1958.
Pastor Harry Rahming lived until he was 90 years old.  He had a powerful life in the time he was given.  He was born in Providence, Rhode Island, December 27, 1894.  The Episcopal church of Hoy Redeemer was born in 1882 in the Whitter neighborhood that some called 'Struggle Hill' (yet another story within this story).  Pastor Rahming took the helm of this integrated church in 1921.  He became the first African American Vicar of Holy Redeemer.  His church was the only Episcopalian church in Denver with Black leaders and a significant number of Black congregants.  The church was truly a beacon for Denver's Black community.  Pastor Rahming was about uplifting, empowering, and advocating for his people.  In the 1950's he coordinated the Sachs Foundation Scholarships that were earmarked for Black students.  Holy Redeemer was also actively involved in the civil rights movement and integration.  He served the church for 46 years and retired in 1966.  Deeds not just words make Pastor Rahming worthy of this brief review of his history.
The history of African Americans in the U.S. and in Colorado is just so rich it can't be confined to one month.  As we continue to explore the details of Dr. Charles Blackwood, Jr.'s life, the stories within his story will be unpacked.  This is so important because a lot of these stories are hidden or tucked away.  It is so exciting that all of this began as we were looking for the first Black graduate of CU Medical School to name an endowment on his behalf.  It is vital to have funds to support our students.  We thank Dr. Charles Blackwood for having our back and standing tall to accomplish his goal.  If you would like to donate to the fund, the link is below:
Charles J. Blackwood, MD, Endowed Memorial Scholarship Fund | CU Anschutz | Giving to CU
Do you know Dr. Blackwood or Dr Rahming?  Share your stories with us.
Sources:
https://www.historycolorado.org/sites/default/files/media/documents/2018/5dv7024.pdf
Our history — Church of the Holy Redeemer (holyredeemerdenver.org)
Church of the Holy Redeemer | Articles | Colorado Encyclopedia