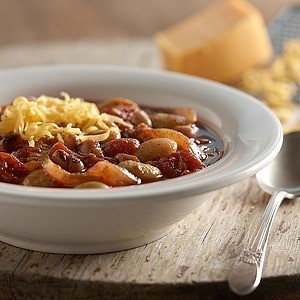 Makes 4 servings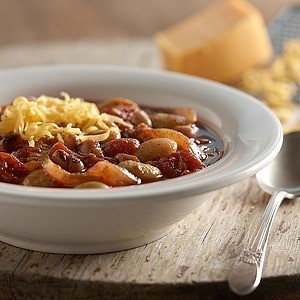 Active Time: 25 minutes
Total Time: 35 minutes
Course: Dinner
Kaiser Permanente has provided an excellent meatless chili recipe.  I tried it and was quite pleased. I did cook my own black-eyed peas from scratch instead of using the canned style, used the southern style frozen lima beans, and added some celery.
Fire-roasted flavor and the pairing of black-eyed peas and lima beans distinguish this hearty half-hour chili. People loved the bean combination and the roasted flavored.
Try the recipe  with your own little twists and send us your thoughts.
Ingredients:
1 tablespoon canola oil
1 large red onion, cut into thin wedges
4 cloves garlic, minced
2 14.5-ounce cans no-salt-added fire-roasted diced tomatoes, undrained
1 15-ounce can reduced-sodium black-eyed peas, rinsed and drained
1 10-ounce package frozen lima beans
1 cup water
1 to 2 tablespoons chili powder
1 tablespoon smoked paprika or regular paprika
1/8 teaspoon salt
Shredded reduced-fat Cheddar cheese (optional)
Preparation:
Heat oil in a 4-quart Dutch oven over medium heat. Add onion; cook for 8 to 10 minutes or until very tender, stirring occasionally. Stir in garlic.
Stir in tomatoes, black-eyed peas, lima beans, water, chili powder to taste, paprika and salt. Bring to a boil; reduce heat. Simmer, covered, for 10 to 15 minutes to blend flavors. If desired, top each serving with Cheddar.
Tips & Notes:
Nutrition
Per serving: 275 calories; 45 g carbohydrates; 5 g fat (0 g sat, 2 g mono); 13 g protein; 0 mg cholesterol; 11 g dietary fiber; 632 mg potassium; 177 mg sodium. Nutrition bonus: 1 mg Niacin, 11 mg Vitamin C, 32 microg Folate, 50 mg Calcium, 2 mg Iron, 1506 IU Vitamin A